Dear Reader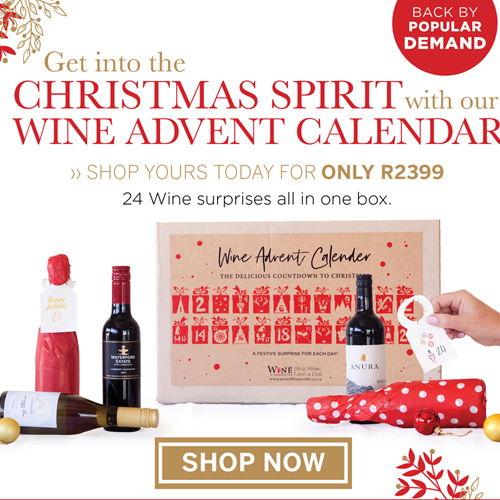 Don't you sometimes look at your child opening their Advent Calendar and think … I need something like that … perhaps not with chocolate … something else … with wine, yes, wine would be great!

Well … your dream has come true:

As nice as chocolate can be … it isn't wine. And it certainly isn't 24 x 375ml bottles of wines like Anura Merlot 2016, Asara VC Sauvignon Blanc 2017, Pierre Jourdan Méthode Cap Classique Brut, Rustenberg John X Merriman and Waterford Estate Cabernet Sauvignon 2014 and many more top-quality wines (can't ruin the surprise) all in one box.

Each bottle comes individually wrapped (yes, a daily gift to yourself when you need it the most in the year) and there is a neck tag for each wine with details like where the wine is from, our Panel's tasting notes and food pairing suggestions.

Relax and unwind this December and enjoy the perfect opportunity to try a glass of something new every night. Order today, as stock is limited.

Kind Regards,

P.S. Thank you for your ongoing business. Please let me know if there is anything about our service we could improve on. And remember. Always. If there is ever a case of wine with which you are not entirely satisfied, for whatever reason, we'll collect the balance and refund you for the product's full value.